Some Warm-Up Problems
We'll start off with some easy problems, then gradually work into some harder problems. Some of the problems have hints, and all of them have solutions.



Dogleg to b4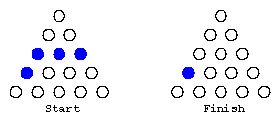 Some people call this the "3-removal" because the top three pegs get removed.
It isn't too hard, but here is the solution if you want to see it. Solution:


Dogleg to e1


This has the same start as Dogleg to b4, but it ends in e1.
It's easy, but here is the solution if you need it. Solution:


Dogleg to e5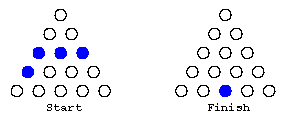 One more variation on the Dogleg. Here is the solution if you need it. Solution:


Vee


Arrow to b4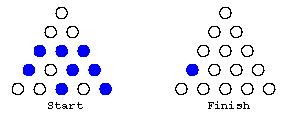 Do you see the arrow in this picture? The pegs c3, e3, g3, h4, and i5 form the head, and pegs e5, f4 form the shaft. The peg at b4 at the end is the same peg that was there at the beginning. This is a little harder than the previous ones, so here is a hint. Hint:
Arrow to e1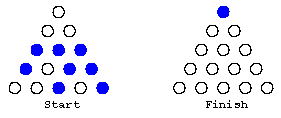 Hint:
Arrow to e5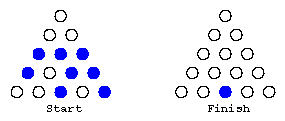 Hint:
Call and Answer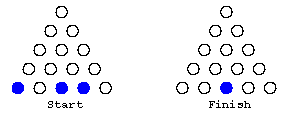 This one is really easy, but it comes in handy as a component to other problems.
Solution:


Diamond
Start with four pegs in e1, d2, f2, and e3. These four pegs make a diamond formation at the top of the board. You can end with one peg in any of four spots--e1, b4, h4, or e5.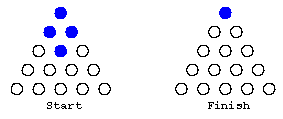 Missing Diamond
Have you done the first diamond problem yet? If not, go back and look at the solution.
Something interesting happens if you start with only e1 empty and take these moves in reverse order. The original order was e1-g3, g3-c3, c3-e1. Here they are in reverse order.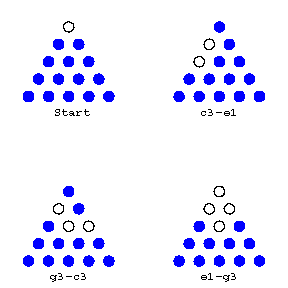 By taking the moves backwards, we made a "Missing Diamond"!
Here are three other problems that end in a Missing Diamond.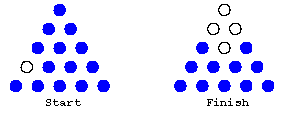 Solution:

*************************************
Now we're ready for some harder problems.
Table of Contents
Return to S.W. Graham's home page.
Comments? Email me.