Travel Support Application (Updated 8/5/16)
Thanks to the Canadian Statistical Sciences Institute (CANSSI) and Department of Mathematics, Central Michigan University for partial travel supports for students and young researcher participants.† A limited number of partial traveling support up to US$500 (or CAD$700) is available for eligible participants who are
<![if !supportLists]>∑ <![endif]>currently full time students in a university
OR
<![if !supportLists]>∑ <![endif]>a junior researcher who received his/her PhD degree in 2012 or later.
In addition, you must also meet the following conditions:
<![if !supportLists]>∑ <![endif]>The applicant has been accepted for either oral or poster presentation.
<![if !supportLists]>∑ <![endif]>The applicant is the presenter.
<![if !supportLists]>∑ <![endif]>The applicant has registered for the conference.
If you meet the stated criteria and conditions, you may apply for a maximum of US$500 (or CAD$700) support. In order to receive full consideration, please submit the following documents by the deadline on August 20, 2016. The decision will be made by August 31, 2016.
<![if !supportLists]>1. <![endif]>Application form for ICOSDA 2016 Travel Support.
<![if !supportLists]>2. <![endif]>Updated Vita
<![if !supportLists]>3. <![endif]>Conference registration confirmation.
Please send the above documents to
Felix Famoye
Using the e-mail address felix.famoye@cmich.edu
And the e-mail Subject: Travel Support for ICOSDA2016
Note that if there are more applicants than what we are able to support, the amount of award may be reduced in order to support as many participants as possible. On the other hand, if we have less applicants, the amount of awards may be increased.
Travel Information
Hotel Reservation and Local Ground Transportation
Welcome to the†† world renowned Niagara Falls.
We are sorry that there are very limited number of rooms available for our conference at Crowne Plaza. The following link provided by www.Trivago.com† takes you to other hotels near Crowne Plaza:
http://www.trivago.com/go/c54v0w1 . A screen shot for the hotels near Crowne Plaza is given below.
We suggest that you make your reservation of lodging through online travel companies, such as Trivago.com, Expedia, Orbitz, etc. (updated July 17, 2016)
<![if !vml]>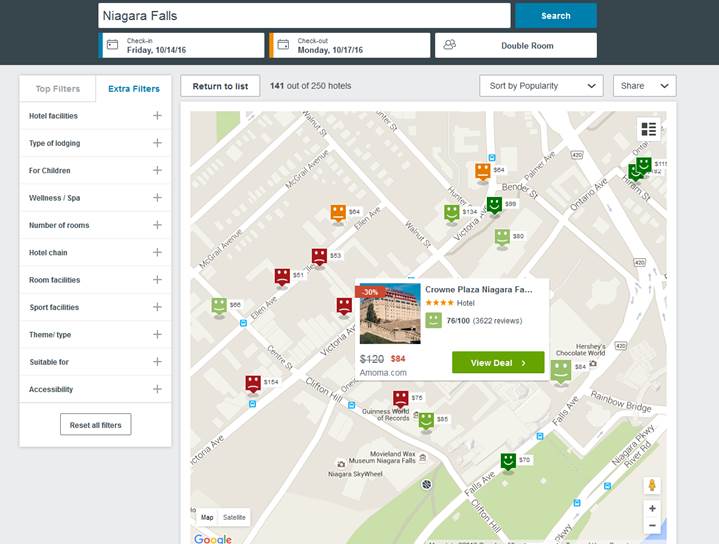 <![endif]>
The conference will be held at the Crowne Plaza Niagara Falls-Fallsview, 5685 Falls Avenue, Niagara Falls, ON, Canada. We have negotiated a discounted rate for lodging at the conference hotel (in Canadian Dollars).
| | | |
| --- | --- | --- |
| Room Type | Friday, October 14, 2016 | Saturday, October 15, 2016 |
| Traditional | C$139.00 | C$159.00 |
| Fallsview | C$179.00 | C$199.00 |
Rates are in Canadian Dollars, and are subject to Promotion Fee of 5.9%, and both are subject to 13% Harmonized Sales Tax.
Rates are for single or double occupancy. Triple and quadruple accommodation is available at an additional cost of $20 per person, per day to a maximum of four adults per guestroom.
For lodging reservation for the conference, please contact the Crowne Plaza Hotel
Local† Ground Transportation (from airports to hotel):
If you fly to either Toronto International Airport or Buffalo Niagara International Airport, you will need to take local transportation to get to Niagara Falls. There are several ways to travel from airports to Niagara Falls:
<![if !supportLists]>∑ <![endif]>By renting a car from airport.
<![if !supportLists]>∑ <![endif]>By taking Limousines, Bus, Taxi or Shuttle Services:
We have arranged a discount rate with Niagara Airbus for local ground transportation from airports to hotel between October 7 to October 21, 2016. The discount Code for ICOSDA 2016 is 358
| | | |
| --- | --- | --- |
| Airport | Round Trip | One-way |
| Toronto Pearson International Airport | C$101.00 | C$71.00 |
| Buffalo International Airport | C$115.00 | C$79.00 |
10% discount on all private exclusive services for all Airports, including, Hamilton, Billy Bishop Toronto Island, Toronto Pearson, Buffalo, and Niagara Falls New York International Airports.
To make your local transportation with Airbus (On-Line Booking Instructions for ICOSDA 2016):
| | |
| --- | --- |
| Airbus Web site | |
| Reservation Discount Code | 358 |
| Phone reservation | 905-374-8111 |
| e-mail inquiries or questions | |
†
Here is another Shuttle Service company
Buffalo Airport Shuttle & MedVan, Divisions of Buffalo Niagara Transport
Toll Free number: 1-877-750-2550
Company website: www.buffaloairportshuttle.com
Crossing the Canadian and United States border:
Border Services are responsible for entry into Canada. For specific and the most accurate information please check with those agencies. Below is a general condensed idea of what you may need to cross the border.
Visitors to Canada
When you enter Canada, a border services officer may ask to see your passport and a valid visa (if you are arriving from a country from which one is required).
<![if !supportLists]>∑ <![endif]>If you are a United States citizen (U.S.), you need a passport to enter Canada.
<![if !supportLists]>∑ <![endif]>If you are not a US citizen, you may need a visitorís visa to attend the conference. For more information about a visitorís visa and a Visa Application Center (VAC) near your place of residence, click on the link http://www.cic.gc.ca/english/information/offices/vac.asp. You should check on this as soon as possible as the visa processing time varies from place to place. If you delay this, you may not have adequate time to have your visa processed before the conference.
All travelers, including U.S. citizens, are encouraged to visit the U.S. Customs and Border Protection's Web site at www.cbp.gov for information on the U.S. Western Hemisphere Travel Initiative and its traveler requirements to enter or return to the United States.